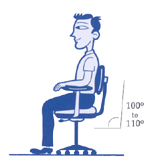 Comfortable desk work begins with proper chair setup. Follow these helpful tips to ensure a proper ergonomic chair setup.
Chair Setup
Push your hips as far back as they can go in the chair.
Adjust the seat height so your feet are flat on the floor and your knees are equal to, or slightly lower than, your hips.
Sometimes the desk height forces you to have the chair higher than you what will allow you to touch the ground.  If your feet don't reach the ground put a small box under your desk to rest your feet on.
The back of the chair should be at a 100°-110° reclined angle which should create an angle between your body and your thighs of 90° -100°.
Make sure your upper and lower back are supported. Use extra cushions at the small of your back if your chair does not have adequate support.
Adjust the armrests so that your shoulders are down and relaxed.
If your armrests prevent your shoulders from being in a relaxed position, remove them.
Keep your body straight with the head and neck upright and looking forward, not to the side. Do not hunch over or slouch.
OTHER TIPS
Don't cross your legs while sitting. This can cut off circulation and/or lead to hip problems.
Make sure your chair seat has a soft, downward curved edge so that it does not dig into the back of your thighs. This can also cut off circulation.
When purchasing a chair the best feature is its ability to adjust each component separately.
If sitting is too painful, consider a standing workstation.
Next post "Ergonomic Keyboard and Mouse Setup"
http://peakformhealthcenter.com/wp-content/uploads/2013/01/chair.jpg
164
150
Dr. Kevin Rose
http://peakformhealthcenter.com/wp-content/uploads/2016/03/peak-logo.png
Dr. Kevin Rose
2013-01-29 11:10:59
2016-05-20 17:00:53
Ergonomic Chair Setup