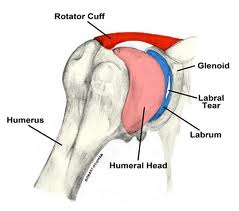 At the recent American Orthopaedic Society for Sports Medicine, a comparison of non-surgical treatment and surgical treatment for SLAP labral tears of the shoulder in baseball players was presented. The labrum is a cartilage structure that makes the
socket of the shoulder deeper and helps hold the upper arm. SLAP tears are a specific type of labral injury that is mainly caused by repetitive throwing.   Although surgical repair of SLAP tears is common, little is known about the effectiveness of nonsurgical pain relief and the effects of surgery on performance.
| | | |
| --- | --- | --- |
| | Return to play | Return to same level of play |
| Surgery | 48% | 7% |
| Non-Surgery | 40% | 22% |
The return to play rate in SLAP injuries is low, typically reported at less than 50%. In this study the return to play rate for those that underwent surgery was 48% while those that underwent rehabilitation was only slightly lower at 40%. The most interesting finding in this study however was that the group that had surgery rarely, only 7% of the time, returned to the level of play that they had previously attained. The non-surgery group in comparison returned to the same level of play 22% of the time.
John E. Kuhn, MD, associate professor of orthopedic surgery and rehabilitation and chief of shoulder surgery at Vanderbilt University Medical Center in Nashville, Tennessee described the findings as "very significant" and summed up the findings:
"A lot of these throwing athletes can be treated non-operatively," Dr. Kuhn said. "They had very good success with rehabilitation.  That suggests that patients can throw with SLAP tears, and that not every SLAP tear needs to be repaired," he said. "Many can be rehabilitated; the sources of pain or disability may not even be the SLAP lesion itself," he added. The research suggests that surgery in this patient population really should be a career-salvaging option, he explained. "It really shouldn't be something you throw at somebody quickly or early. Rehab them, do everything you can to prevent surgery," he concluded.
Another take home message from these findings that should be discussed further is the importance of avoiding shoulder injuries from throwing.  As stated the percentage of those injured with SLAP tears that return to play is less than 50%.  The best advice then logically is to avoid getting a SLAP tear altogether.  Unfortunately, there is no sure fire way to avoid getting a tear if you are a pitcher. However what can be done is limiting the risk factors for injury.  Risk factors for throwing injuries include a decrease in shoulder internal rotation, poor scapular control, and high pitching load.  These risk factors should be screened for and proper preventative exercises should be built into any strength and conditioning program for baseball players, especially pitchers. Non surgical treatment in these cases included rehabilitation that focused on stretching the posterior capsule of the shoulder to increase internal rotation and training the scapular muscles to hold the scapula in a stable position during the wind-up and cocking phase of the throwing motion. These exercises should also be at the core of any preventative arm care program for baseball players. Manual therapy, including myofascial release and Graston treatment can also be beneficial to aid in increasing range of motion.  These preventative strategies should be overseen by a healthcare provider knowledgeable in baseball injuries.
If you would like more information about how to recover from or prevent shoulder injuries contact our office today.
Another article outlining preventative exercises is coming soon…
-Dr. Kevin Rose, DC
 References
Yin, S."SLAP Tears Often Treated Successfully without Surgery". Medscape Medical News, July 7 2012.
Wilk et al. Passive range of motion characteristics in the overhead baseball pitcher and their implications for rehabilitation.  Clin Orthop Relat Res. 2012 Jun;470(6):1586-94.
Wilk et al. Shoulder injuries in te overhead athlete.  J Orthop Sports Phys Ther. 2009 Feb;39(2):38-54.
http://peakformhealthcenter.com/wp-content/uploads/2012/07/glabrum-221.jpg
211
239
Dr. Kevin Rose
http://peakformhealthcenter.com/wp-content/uploads/2016/03/peak-logo.png
Dr. Kevin Rose
2012-07-25 15:13:59
2016-05-20 17:16:13
Labral tears of the shoulder: surgery or not?