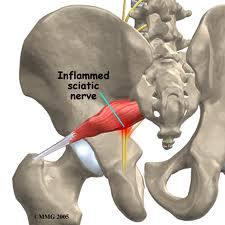 Piriformis syndrome is a unique cause if sciatic nerve irritation (neuritis) or sciatica. The condition, which can mimic lumbar disc herniation, usually is caused by irritation of the sciatic nerve due to spasm and/or contracture of the piriformis muscle. Piriformis syndrome is also referred to as "pseudosciatica", "wallet sciatica", and "hip socket neuropathy".
It frequently goes unrecognized or is misdiagnosed in clinical settings. Piriformis syndrome can "masquerade" as other common somatic dysfunctions, such as intervertebral discitis, lumbar radiculopathy, primary sacral dysfunction, sacroiliitis, sciatica, and trochanteric bursitis.
(Image from http://www.concordortho.com/patient-education/topic-detail-popup.aspx?topicID=4214fc65d020761633286131e407d037)
Anatomical Considerations
The proper understanding of piriformis syndrome requires knowledge of the anatomy and anatomical variations in the relationships between the sciatic nerve and the piriformis muscle.
The piriformis muscle is flat, pyramid-shaped, and oblique. This muscle originates on the front of the sacrum and inserts at the greater trochanter of the femur. With the hip extended, the piriformis muscle is an external rotator of the hip; however, with the hip flexed, the muscle becomes a hip abductor.
In most of the population, the sciatic nerve exits the pelvis deep along the lower surface of the piriformis muscle. However, many developmental variations of the relationship between the sciatic nerve in the pelvis and piriformis muscle have been observed. In as much as 22% of the population, the sciatic nerve pierces the piriformis muscle, splits the piriformis muscle, or both, predisposing these individuals to irritation of the sciatic nerve.
From http://www.anatomyatlases.org/AnatomicVariants/NervousSystem/Images/70.shtml
Causes of Piriformis Syndrome
Piriformis syndrome can be caused by a variety of issues. The underlying mechanism is from irritation to the sciatic nerve. Below are some causes of irritation to the sciatic nerve as it passes the piriformis muscle:
1. Muscular problems
Spasms and adhesions in the piriformis muscle cause compression and irritation of the sciatic nerve. Muscular damage or tightness can develop from a single injury or repetitive use injury. Vigorous physical activity can lead to such an injury- (commonly seen in athletes such as runners, cyclists, and dancers).
2. Postural
Hyperlordosis (increased curvature of the low back) and increased foot pronation are both risk factors for piriformis syndrome
3. Traumatic
Direct compression of the piriformis and/or sciatic nerve from an external soure such as a wallet.
4. Partial or total nerve anatomical abnormalities
An anomaly in the nerve itself as it passes through the piriformis muscle can lead to dysfunction
5. Other causes can include the following:
Pseudoaneurysms of the inferior gluteal artery adjacent to the piriformis syndrome
Bilateral piriformis syndrome due to prolonged sitting during an extended neurosurgical procedure
Cerebral Palsy
Total hip arthroplasty
Myositis ossificans
Stay tuned…… the next post will talk about how this problem is diagnosed and treated.
http://peakformhealthcenter.com/wp-content/uploads/2012/10/Piriformis-syndrome1.jpg
225
225
Dr. Kevin Rose
http://peakformhealthcenter.com/wp-content/uploads/2016/03/peak-logo.png
Dr. Kevin Rose
2012-10-19 11:00:45
2016-05-20 17:54:52
Piriformis Syndrome: Overview and Causes