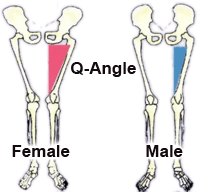 Clinical Diagnosis
Piriformis syndrome occurs most frequently between ages 40-60 and is more common in women than men.  Some reports suggest a 6:1 female-to-male ratio for piriformis syndrome; , possibly because of biomechanics associated with the wider quadriceps femoris muscle angle (ie, "Q angle") in the pelvis of women. Reported incidence rates for piriformis syndrome among patients with low back pain vary widely, from 5% to 36%.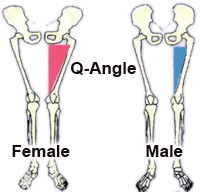 The most common  symptom of patients with piriformis syndrome is increasing pain after sitting for longer than 15 to 20 minutes. Many patients complain of pain over the piriformis muscle (ie, in the buttocks), especially over the muscle's attachments at the sacrum and medial greater trochanter. Symptoms, which may be of sudden or gradual onset, are usually associated with spasm of the piriformis muscle or compression of the sciatic nerve; these symptoms include radiating/shooting pain or tingling or numbness in the back of the thigh, leg, or foot.  These symptoms must be evaluated by a healthcare provider to differentiate the possible causes.  Patients may also complain of difficulty walking and of pain with internal rotation of the involved leg, such as occurs during cross-legged sitting or walking. X-rays or an MRI offer little help in directly diagnosing piriformis syndrome but may be used to rule out other causes of sciatica such as a herniated disc in the lumbar spine.
Functional Evaluation
There are many functional abnormalities that may have either caused or resulted from this condition.  Once the diagnosis has been made, these underlying, perpetuating biomechanical factors must be addressed.
Functional biomechanical deficits associated with piriformis syndrome may include the following:
Tight hip external rotators including pirifromis
Tight adductors (groin)
Hip abductor weakness
Lower lumbar spine dysfunction
Sacroiliac joint hypomobility
Hyperpronation of the foot and prolonged toe-off
Functional adaptations to these deficits include the following:
Ambulation with the thigh in external rotation
Functional limb length shortening
Shortened stride length
Next post will discuss treatment options for piriformis syndrome
http://peakformhealthcenter.com/wp-content/uploads/2012/10/q-angle.gif
192
200
Dr. Kevin Rose
http://peakformhealthcenter.com/wp-content/uploads/2016/03/peak-logo.png
Dr. Kevin Rose
2012-10-22 17:00:32
2016-05-20 17:57:02
Piriformis Syndrome Part II- Evaluation