Congratulations to Dr. Travis Rose, DC CCSP for successfully completing the course in "New Trends in the Prevention of Running Injuries"! This course, taught by The Running Clinic, teaches health care providers about the latest methods to treat and manage running injuries. Dr. Rose is currently the only healthcare provider with this certification in Mission Valley, San Diego.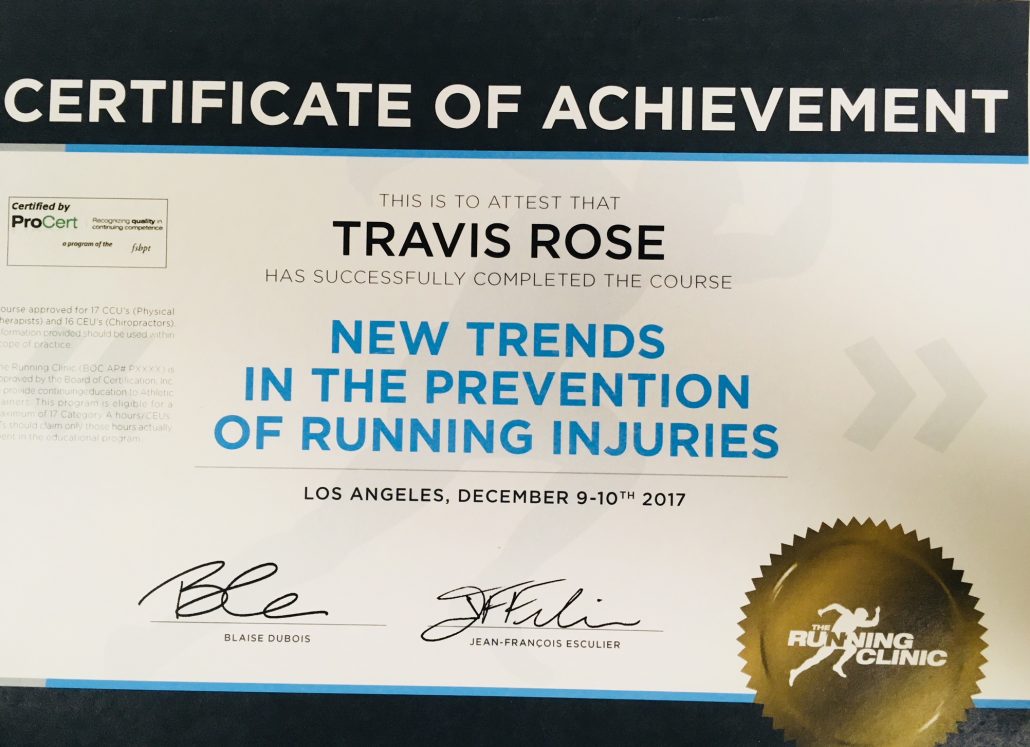 The following is a quick Q and A with Doctor Rose regarding running injuries.
Q: Having taken this latest course, put on by The Running Clinic, what were the main takeaways to prevent running injuries?
Dr. Rose: The main takeaways for injury prevention and increasing running efficiency were the following: 1. Run with a cadence between 170-180 steps per minute, 2. Limit the up and down motion while running (decrease vertical loading associated with injury), and 3) Use as little of a shoe as possible as this allows you to run more naturally.
Q:  Was there information that surprised you or went against conventional running information?
Dr. Rose: The biggest "eye opener" was the fact that there is zero research to support prescription of specific shoes for specific types of feet. Many people put their trust in companies to tell them which shoe to buy based on treadmill analysis. Unfortunately there is research that shows that shoes don't limit pronation like they claim to do. So why give somebody a big bulky shoe when it doesn't do what it is designed to do? Instead, work on the items listed above and become a better runner!
Q: What is the biggest cause of injury in runners?
Dr. Rose: It is when a runner changes something. For example, a runner runs 25 miles per week, same distances for each run. But then decides to run an extra 10 miles one week. That change in volume is what will likely cause an injury to pop up. Another example is always running on concrete or hard trails, then deciding to run 10 miles on soft sand. The body was not ready to support a long soft sand run and an injury occurs.
Q: There is a lot of information for exercises online to help improve running technique, can a runner do home exercises and fix their running flaws?
Dr. Rose: Unfortunately no. I used to be under that assumption when I was an injured runner. I would get frustrated when I would do a ton of strength exercises and core work to then run 2 miles and have that all too familiar pain come back. Running gait needs to be corrected to take strain off the injured area. Using myself as an example, I suffered from repeated shin splints due to cross over gait. It did not matter how much glute or calf strengthening I did because once I ran incorrectly again, the tendon would get overloaded and I would be back to square one. Once I learned to run with a wider step width and have a faster turn over (faster cadence), my injury went away almost immediately and I was able to slowly build back up.
Q: Any other advice on running injuries that you learned?
Dr. Rose: When in doubt, get it checked out. Running should be fun and injury free. I hear too many stories from patients about how tight and sore they are after every run. Or that pain is something "you deal with as a runner". Not true! Get evaluated by a running doctor who can get your gait back on track. If there is not a running doctor in your area, there are a few pieces of wearable technology that can help. One being Lumo Run which gives feedback on cadence, vertical bounce, hip drop, hip rotation, and braking force. If you already run with a running watch, usually they have features that you can use (like cadence) to start really emphasizing proper technique.
Dr. Travis Rose DC CCSP and Dr. Kevin Rose DC DACBSP are Chiropractors trained to treat a wide variety of sport related injuries. Schedule a visit at our Mission Valley, San Diego office!
http://peakformhealthcenter.com/wp-content/uploads/2016/03/peak-logo.png
0
0
admin
http://peakformhealthcenter.com/wp-content/uploads/2016/03/peak-logo.png
admin
2018-04-16 23:21:26
2018-04-16 23:22:42
The Running Clinic Certification