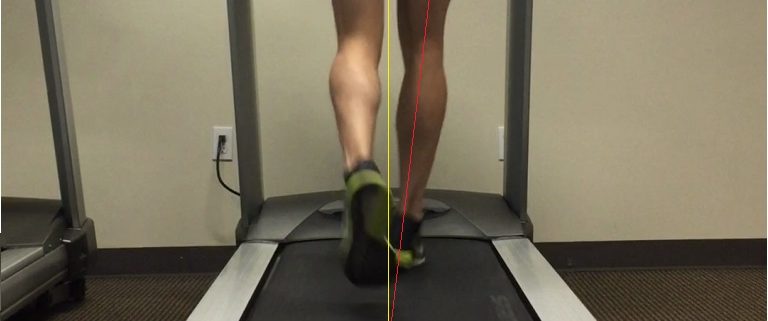 Do you Run with a Cross-Over Gait?
A cross-over gait, also known as a "tightrope" gait, involves running with your feet crossing the midline of your body. As each foot crosses midline, it appears as if you a running along a tightrope. This running style decreases running efficiency and may set you up for future injury (or prolong your current injury!). The areas commonly injured are the inner shin/tendons, knee, outer hip/IT band, and lower back. Beginner runners, and runners with weak core/gluteal muscles tend to run with this type of gait. 
Do you run with a cross-over gait?
The absolute easiest way to diagnose a cross-over gait is by having a gait analysis performed. A professional gait analysis is recommended but a quick video recorded by a friend can be show if the feet cross midline. Setting up a camera behind a treadmill while running solo is another easy way check for cross-over gait (see runner below).  As you watch the stride, look for where the foot lands in relation to the body's midline.
Other signs of a cross-over gait include: excessive wear on the outside bottom of shoes, scuff marks on the inner legs ( you actually hit yourself with your foot from running too narrow!), side to side head bob noticed visually when looking straight ahead, and inline foot prints when running on sand or dirt. The main symptom of a cross-over gait is recurring injury to the same area with running. Symptoms tend to lessen with treatment and rest but return with increased running volume, intensity, or both. 
 Why is a cross-over gait less efficient?
Simply put, you are wasting energy moving side to side; the more energy spent moving side to side, less energy spent moving forward. Cross-over gait puts a lot more demand on tissues which will cause the muscles of the core, hip, lower leg to work extra hard. The demand will create more fatigue which in turn will decrease efficiency further. 
How does a cross-over gait cause injury?
With a cross-over gait, the foot strikes at or across midline , forcing our joints to work in a non-stacked position. The lower extremity performs best with a stacked orientation to absorb shock/strain with muscles. With the joints working at a slight angle, several tissues now have to work harder to absorb shock and slow down joint movement. The following injuries are commonly associated with a cross over gait:
Posterior shin splints/Posterior Tibialis tendinopathy

– While running with a cross-over gait, the foot lands excessively on the outside part of the foot and as the body weight shifts forward, the foot quickly flattens. The slapping down of the foot is often viewed as "over pronation" when in reality, the foot and ankle are pronating too quickly. The posterior tibialis muscle (and other lower leg muscles) must contract powerfully to slow this motion down. This causes excessive strain of the muscle causing shin and tendon pain. Over pronation is not the issue and is a reason why changing footwear in these cases is not helpful. 

Knee pain

– As the leg moves toward middle, the inner knee structures get over stretched. The kneecap likes to move in a straight line over the knee. If the muscles are contracting around an angled joint, abnormal tracking of the knee cap occurs.  Patients often have pain at the front part of their knee. If chronic irritation occurs, it can cause swelling around the knee/knee cap.

Outer hip/IT band pain

– Again as the leg moves inward, the outer hip elongates, allowing the pelvis to "drop". This over stretches the outer gluteal muscles. As the hip muscles become more strained, the less stability they are able to provide. Trochanteric bursitis, iliotibial band syndrome are two common conditions that arise from overused/weakened hip muscles. 

Lower back pain

– Keeping in mind with what occurs at the hip, the low back joints and muscles get stretched abnormally as the pelvis "drops" due to weak gluteal muscle stabilization. Local low back pain is common from this constant side to side joint irritation. Symptoms may be significantly worse if a runner  has disc degeneration and/or low back joint degeneration.
A runner with a cross over gait and a cadence of 180 steps per minute, will cross over 5,400 times during a 30 minute run! Running with a cross-over gait will only worsen as fatigue sets in, setting runners up for injury. It is important to identify this running pattern and address the deficiencies to avoid injury. If you have chronic injuries or recurrent injuries to the same body part, you may be running with a cross-over gait. In our upcoming blog posts, we will be discussing ways to fix a cross over gait and run more efficiently.  
If you are interested in being evaluated for running injuries, our office is conveniently located in Mission Valley, San Diego!
http://peakformhealthcenter.com/wp-content/uploads/2018/03/no-mark-up.jpg
409
768
admin
http://peakformhealthcenter.com/wp-content/uploads/2016/03/peak-logo.png
admin
2018-03-23 01:07:26
2018-04-03 14:03:59
Do you Run with a Cross-Over Gait?