What is Chiropractic Care?
Chiropractors are trained to evaluate, diagnose and treat neuromuscular and musckuloskeletal conditions. It is a common misconception that chiropractors only treat spinal conditions with spinal manipulative therapy, or adjusting techniques. In fact, chiropractors treat a wide array of muskuloskeletal conditions which include neck pain, back pain, and headaches but also tendon disorders, muscle strains, and ligament sprains which commonly affect our upper/lower extremities. In our Mission Valley, San Diego office, we commonly treat soft tissue injuries with a combination of joint manipulation, Active Release Technique, Graston Technique, and rehabilitative exercise.
What to Expect for your First Visit?
History
There are a few forms to be filled out that answer questions regarding your current injury (or reason seeking care) and past health issues. One of our chiropractors will then go over this information with you and ask a series of questions regarding your current and past injuries; this helps give us information that leads to a working diagnosis.
Exam

After the history is complete, a physical exam is performed. This normally includes: active/passive range of motion, orthopedic testing, neurological testing, and functional tests such as squats/lunges. All these tests give us further information to accurately diagnose the condition that you are presenting with. This in turn will develop an appropriate treatment plan moving forward. In some cases, the history and exam may reveal a condition that is in need of further testing (X-ray, MRI) before treatment can begin. In rare cases, a referral to a specialized health care provider is warranted.
Many of our patients at our Mission Valley office seek out our care for sport performance and are not currently injured. In these cases, we focus on evaluating musculoskeletal imbalances that may be limiting sport performance.
Treatment
As mentioned above we utilize the latest therapies and treatment protocols for each injury we see in our office. Treatment may include some or all of the following: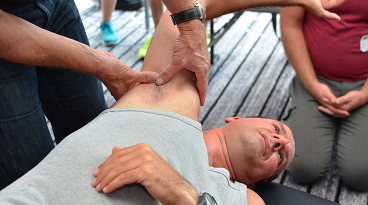 Joint manipulation/mobilization- 

If it is determined that there is loss in range of motion at a joint, joint manipulation or mobilization can be performed to restore proper range of motion and joint function   

Active Release Technique

– Active Release Technique or (A.R.T) is considered the "Gold Standard" for treating soft tissue injury. The practitioner identifies the injured structure, applies pressure, and has the patient perform active movements. This helps break down scar tissue and restore proper function to the soft tissue. Treatments usually last 5-15 minutes and can be painful in areas where the injury is.

Graston Technique

– Graston is another technique we use in our Mission Valley office that helps break down scar tissue in the superficial layers of muscle and fascia in our body. Graston is also excellent for treating chronic injuries due to its ability to increase blood flow to the injured area. After treatment, you may notice red marks and feel warm in the area due to this increase in blood flow.

Rehabilitative Exercise

– An individual exercise plan is prescribed for each patient. Exercises may include flexibility, mobility, strength, stability, etc.depending on your injury and or goals with care. Our goal is to always keep the exercises progressive to avoid plateaus in care.
  
Our goal is return patients to their sport, activity, job as quickly as possible, pain free. We often see significant results between 4-8 visits, depending on the severity of the condition. Once a patient has reached maximal improvement for the condition we recommend periodic check ups to re-evaluate the area. This allows us the opportunity to offer further advice, change exercises, etc. to avoid future re-injury. 
Please do not hesitate to contact our Mission Valley office at 619-818-4306 if you have any questions. You may call our office or visit our website to schedule today! We accept most major insurances, offer affordable cash rates, and offer a military discount for treatments.
http://peakformhealthcenter.com/wp-content/uploads/2016/03/peak-logo.png
0
0
admin
http://peakformhealthcenter.com/wp-content/uploads/2016/03/peak-logo.png
admin
2018-04-02 21:15:39
2018-04-02 21:15:39
What is Chiropractic Care?