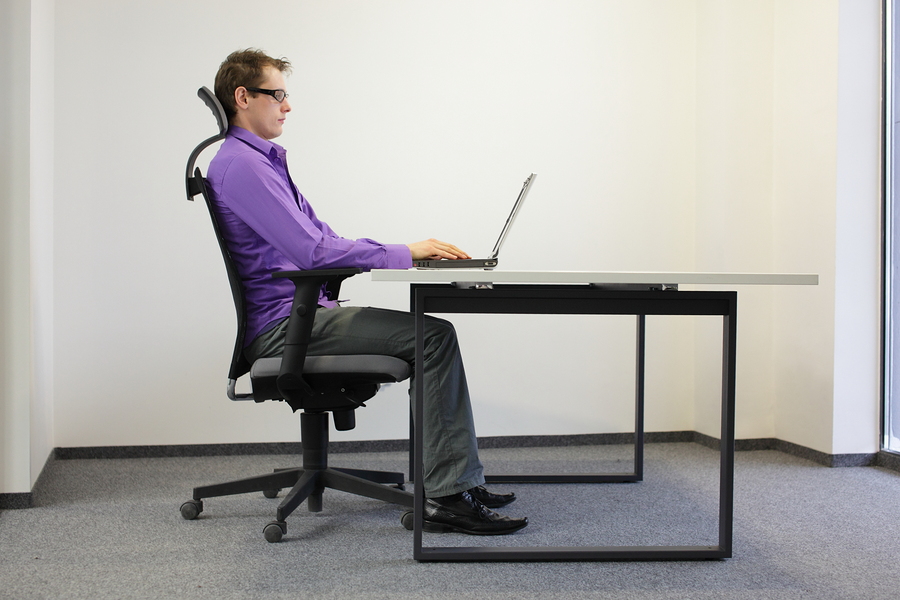 If you spend a lot of time sitting at your work desk, it can actually cause some serious health issues if the workstation is not set up properly. Here are some easy adjustments you can make to ensure that you will maintain a healthy posture at an ergonomic workstation.
This is your guide to a fully ergonomic workstation:
Chair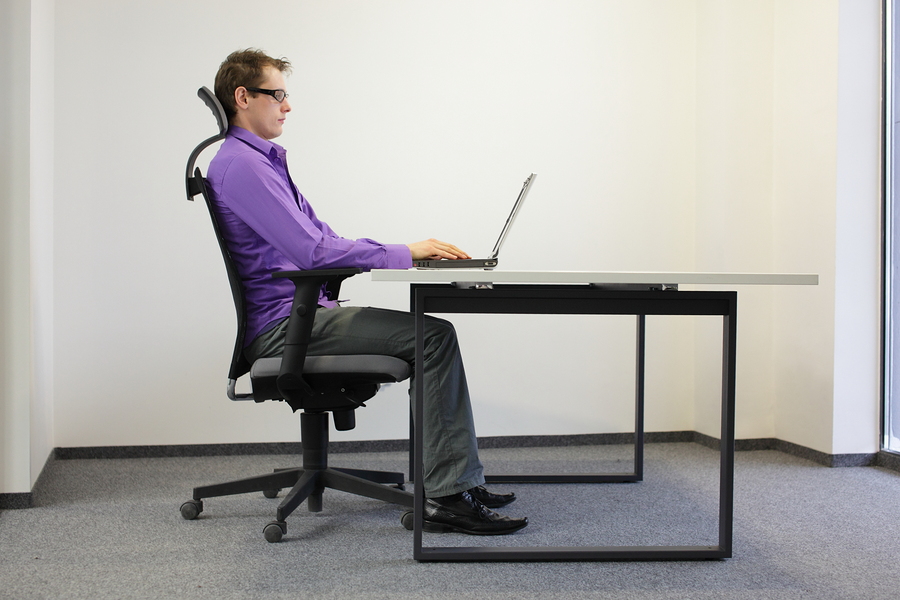 Sit on your chair with your hips completely pushed to the back of the seat.
Adjust your chair height so that your feet are flat on the ground.
Your knees should be level to your hips or slightly lower than your hips.
Recline the back of the chair so that it is at a 100°-110° angle.
Support your lower back with a by using an inflatable cushion or a small pillow for extra support. You can also add on a lumbar support to your chair.
Set the arm rests at a height where your shoulders are able to relax comfortably on them. Another option is to remove the arm rests altogether.
Keyboard
Position the keyboard so that it is directly in front of you and centered with your body.
Sit closely to your keyboard to avoid overreaching.
While your shoulders are relaxed, position the keyboard so that your arms are at a 100° angle. Ensure that your wrists and hands are straight.
If you need to tilt your keyboard up, make sure that your chair reclines so that you are still at a 100° angle.
If you'd like to use a palm support, make sure that you don't let your palms rest on it while typing, as this is not recommended. Additionally, try to keep your wrists slightly elevated when typing.
Keep your mouse as close as you can to the keyboard. It should also be at the same level as the keyboard.
If you need to adjust your seat height to accommodate the keyboard, keep a footrest under your desk for your feet to rest on. This way your feet will not be left dangling.
Computer Monitor
Adjust the monitor to keep your head in a neutral position when working.
The top of the monitor should be around 2 to 3 inches higher than eye-level when seated.
Your screen should be at least an arms length away.
Reduce glare and reflections on your computer screen by adjusting the monitor's positioning.
If you are using a laptop, place it on an adjustable stand, and use an external keyboard and mouse.
Phone
Keep your phone as close to you as possible.
Wear a headset when possible to avoid holding the handset with your shoulder.
In addition to these guidelines, try to avoid slouching and leaning as much as possible, and don't forget to take 1-2 minute breaks to stretch every 20-30 minutes. No matter how ergonomically correct your workstation is, sitting for prolonged period of time in a static position can significantly decrease blood circulation which can lead to other health risks. Take the time to set up your workstation the right way. By following this quick guide to a fully ergonomic workstation, you will be able to work safely and comfortably.
http://peakformhealthcenter.com/wp-content/uploads/2013/07/bigstock-correct-sitting-position-at-wo-46496434.jpg
600
900
admin
http://peakformhealthcenter.com/wp-content/uploads/2016/03/peak-logo.png
admin
2013-07-23 14:24:32
2016-05-20 18:29:32
Your Guide to a Fully Ergonomic Workstation